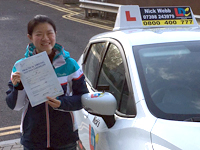 Cheryl yung
Very supportive and boosted my skills and confidence!
First I need to give a big thumbs up to Nick for helping me to pass my driving exam on the 3rd attempt. I was learning with another driving school before, the instructor always just continually told me to slow down, and only asked me why when I did something wrong. It was frustrating as it was never explained why I was wrong and how it could be changed. But this NEVER happened in any of my lessons with Nick. He gave me advice on how to avoid/ to drive in a safer way rather than pointing out my mistakes.
All lessons help to build up my confidence. I also learned to change gears more appropriately, and to drive in an eco- way. Furthermore, I was very impressed by the two block booked lessons 2days before I took my exam last week. I always had problem to start the car on the slope, either the car will stall or it rolls back. Nick gave me a very useful practice which helped me to overcome this problem in just about 5-10mins! That's amazing! Since then, I never stalled my car on the slope, and I am confident that I can perform the same thing every time when I need to do so.
Finally, I am very pleased with the performance of Victor (Nick's learning car). It is quiet on driving, smart to show speed limit correctly and react quickly in case the car is stalled. Good performance must accompany with good tools! I strongly recommend Nick's LDC Driving School to all who are new to driving/ struggle with certain driving skills.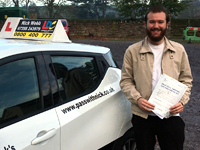 Henry denny
Passed 1st attempt
After several years in and out of the learning process, today I passed my driving test today thanks to Nick and LDC driving school. His personalised, student orientated style allowed me to develop a confidence while driving that I previously lacked. A critical key to this success was the learning material provided by LDC for viewing outside of lessons, including a workbook and DVD's guiding you through each topic in the theory and practical tests. These allowed me to plan my lessons around my weaknesses and ensured I was fully prepared on test day. Nick himself is an excellent guide to the road keeping the atmosphere relaxed and friendly even when I made mistakes. As a nervous driver, Nick and his LDC Driving to School made the difference in my learning experience.
Matt Sampson
Top Class tutor & mentor
Top class tutor and mentor. I never used Nick to learn how to drive however he did tutor me in college. I had a real difficulty to focus on my education when i was younger and Nick managed to adapt his teaching style that was best fitting around my individual learning style as well as doing this for 20 others in my class. Thanks to Nick I took away not just a qualification but life skill and I cannot thank him enough. This man has a skill that you cannot learn, I would highly recommend Nick to ANYONE without hesitation. Friendly, understanding, patient, clear, structured and a joy to work with. I'm sure that many are going to benefit learning to drive with you Nick